Which Countries Spend The Most On Obesity?
Which Countries Spend The Most On Obesity?
Authored by Johnny Wood, senior writer at WEF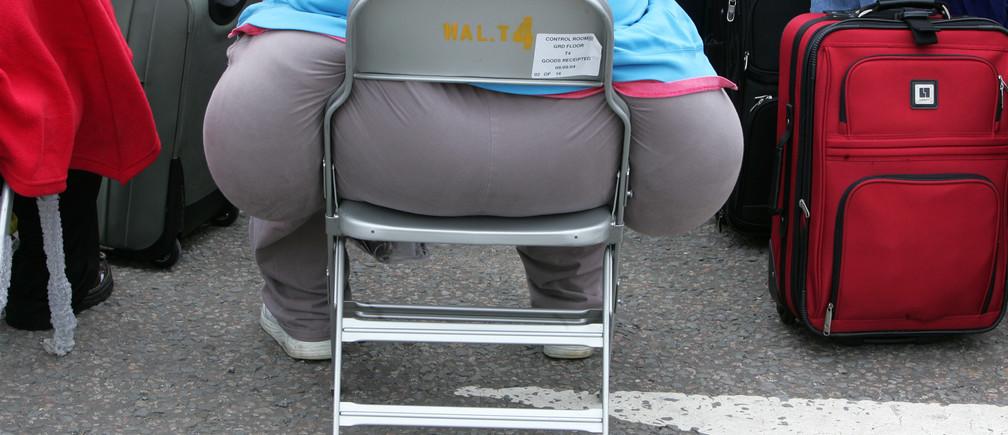 The planet's population is growing rapidly – both in number and, in many places, size. Rising obesity levels place a heavy burden on healthcare provisions, leaving some countries facing an increasingly hefty bill, according to a new report from the Organization for Economic Cooperation and Development.
Obese people use healthcare services more frequently than most and require more specialty care visits, in-patient treatment admissions and surgery procedures. Providing medical services to tackle this problem can be a drain on healthcare budgets.
Almost one-in-four people in OECD countries are obese, the study shows, rising to almost 60% of the population when overweight people are included. Despite initiatives to combat this phenomenon, the number of people leading unhealthy lifestyles is on the rise and obesity rates are growing.
On average, treating obesity-related issues accounts for 8.4% of total healthcare spending in OECD countries.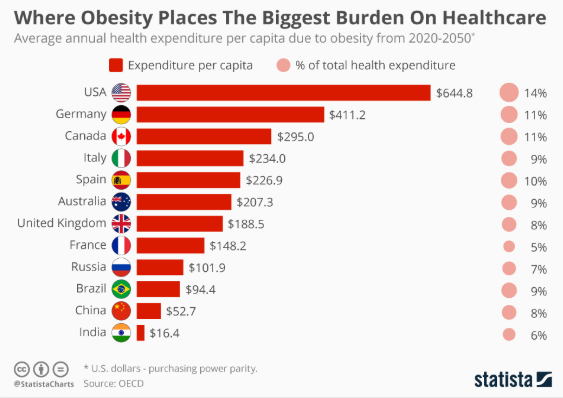 The US is set to spend more per person treating obesity than any other OECD country. Over the next 30 years, this is expected to reach an annual outlay of almost $655 per person – 14% of the country's total annual healthcare expenditure.
Across the border, neighbouring Canada is expected to spend less than half that per capita figure.
Germany sits between the two North American countries, with projected spending of more than $400 per person. Five of the top 10 list are European countries, with Italy and Spain coming in fourth and fifth.
ZEROHEDGE DIRECTLY TO YOUR INBOX
Receive a daily recap featuring a curated list of must-read stories.
Obesity accounts for more than two-thirds of all treatment costs for diabetes, almost a quarter of treatment for cardiovascular conditions and 9% of cancer cases, according to the report. As well as lowering life expectancy, it hinders school performance, decreases worker productivity and lowers gross domestic product (GDP).
Profound impact
Poor diet, lack of exercise and an inactive lifestyle all contribute to putting on excessive weight, which has far-reaching consequences beyond the cost of healthcare.
The OECD report estimates that reducing the calorie intake of energy-dense foods by a fifth could have a profound impact. Each year, this could prevent more than a million cases of noncommunicable diseases like heart conditions, save more than $13 billion in healthcare spending and increase worker numbers by almost 1.5 million.