Whistle-Blower: 'Global Warming' Data Manipulated Before Paris Conference
Whistle-Blower: 'Global Warming' Data Manipulated Before Paris Conference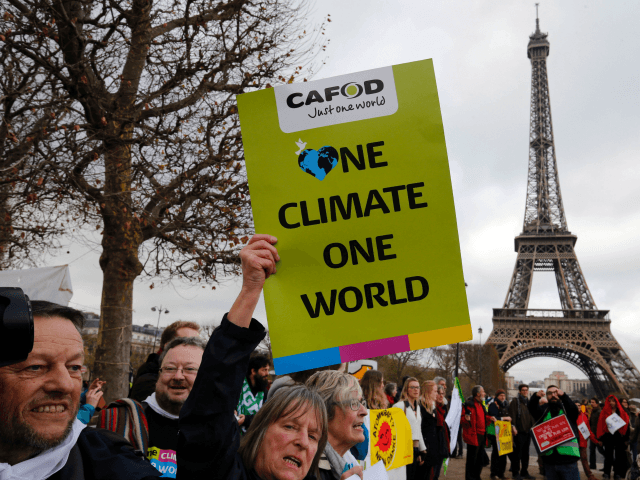 A high-level whistleblower at the National Oceanic and Atmospheric Administration (NOAA) has revealed that the organization published manipulated data in a major 2015 report on climate change in order to maximize impact on world leaders at the UN climate conference in Paris in 2015.
According to a report in The Mail on Sunday, NOAA scientist Dr. John Bates has produced "irrefutable evidence" that the NOAA study denying the "pause" in global warming in the period since 1998 was based on false and misleading data.
The NOAA study was published in June 2015 by the journal Science under the title "Possible artifacts of data biases in the recent global surface warming hiatus."
Dr. Bates accused the lead author of the paper, Thomas Karl, of "insisting on decisions and scientific choices that maximized warming and minimized documentation." Bates says that Karl did so "in an effort to discredit the notion of a global warming pause, rushed so that he could time publication to influence national and international deliberations on climate policy."
Bates said that NOAA bypassed its own protocol, never subjecting the report to NOAA's strict internal evaluation process. Rather, NOAA superiors rushed the study through in a "blatant attempt to intensify the impact" of the paper on the Paris meeting on climate change, he said.
The "Pausebuster" paper produced by NOAA in 2015 was based on two new sets of temperature data—one measuring land temperatures and the other sea temperatures—both of which turned out to be flawed.
According to reports, NOAA has now decided to replace the sea temperature dataset just 18 months after it was issued, because it used "unreliable methods which overstated the speed of warming."
A reported increase in sea surface temperatures was due to upwards adjustments of readings from fixed and floating buoys to agree with water temperature measured by ships, according to Bates.
Bates said that NOAA had good data from buoys but then "they threw it out and 'corrected' it by using the bad data from ships. You never change good data to agree with bad, but that's what they did – so as to make it look as if the sea was warmer."
The land temperature dataset, on the other hand, was the victim of software bugs that rendered its conclusions "unstable," Bates said.
Climate change skeptics have long insisted that scientists are susceptible to political and social pressures to produce the "right kind" of data to back up specific policy decisions.
Dr. Duane Thresher, a climate scientist with a PhD from Columbia University and NASA GISS, has pointed to a "publication and funding bias" as a key to understanding how scientific consensus can be manipulated.
Although scientists are held up as models of independent thinkers and unbiased seekers of truth, the reality is that they depend on funding even more than other professions, and will study what they are paid to study.
The Obama administration, which persistently denied that a climate debate even existed, channeled billions of federal dollars into programs and studies that supported its claims, while silencing contrary opinions.
Thomas Karl, the lead author on the Pausebuster paper, had a longstanding relationship with President Obama's chief science adviser, John Holdren, giving him a "hotline to the White House." Holdren was an ardent advocate of vigorous measures to curb emissions.
"In reality, it's the government, not the scientists, that asks the questions," said David Wojick, an expert on climate research spending and a longtime government consultant.
Federal agencies order up studies that focus on their concerns, so politics ends up guiding science according to its particular interests.
"Government actions have corrupted science, which has been flooded by money to produce politically correct results," said Dr. William Happer, professor emeritus of physics at Princeton University and a member of the National Academy of Sciences.
"It is time for governments to finally admit the truth about global warming. Warming is not the problem. Government action is the problem," he said.
NOAA, the world's leading source of climate data, not only produced a severely flawed study for political motives, it also mounted a cover-up when challenged over its data.
Not long after the study's publication, the US House of Representatives Science Committee initiated an inquiry into its claims that no pause in global warming had existed. NOAA refused to comply with subpoenas demanding internal emails and falsely claimed that no one had raised concerns about the paper internally.
President Donald Trump has pledged he will withdraw from the Paris Agreement that binds signer countries to a series of stringent measures to lessen emissions.